I'd be remiss in not bringing this up, fellow hockey fan. Tomorrow night, on PBS's "Frontline" news documentary show, the National Football League is going to get raked over the coals for the manner in which it has (or has not, depending on how you look at it) handled the issue of traumatic brain injuries. Here's the trailer for "League of Denial":
It's a two-part series, and
you can go to this link
if you want to see a few more teaser videos about the subject matter. The doctor who analyzed the late former Pittsburgh Steeler Mike Webster's brain and Leigh Steinberg, agent for oft-concussed Troy Aikman, offer particularly compelling first-person commentary on the state of affairs in football.
If you've watched "Frontline" in the past, you know that these guys aren't in the business of doing hatchet jobs. They fund legitimate investigative reporting, something in too short supply these days. So while I have yet to see the whole show, I'm giving them the benefit of the doubt on whatever they choose to air.
I also note that in at least one of the videos that I've seen, it was mentioned that the NFL has refused to offer anyone to provide an on-camera rebuttal. In fact,
the NFL has been alleged
to exercise its influence on ESPN, one of its major broadcast rights holders and a contributor to the "Frontline" project, to back away.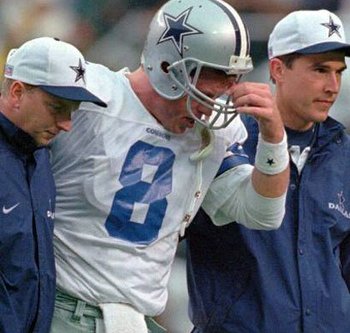 So why am I discussing this on an NHL hockey blog? No, it's not about fighting in hockey (though
scientific evidence has shown that at least some habitual fighters do end up with similar conditions to the football players who get their brains smashed every week
). I do so for a couple of reasons:
1. The NFL is the straw that stirs the professional sports drink in America. The NHL is a second or third-tier professional league in comparison to the NFL. So when the NFL sneezes, the NHL gets a cold...or perhaps comes down with the flu. It's just smart to stay abreast of what's happening at the macro level in the other professional sports.
2. Hockey has perhaps more similarities to football than any other major sport, particularly when it comes to equipment. Both sports require significant amounts of padding, require players to wear helmets and presume a significant level of collision-based physical contact. So while hockey doesn't force its players to endure the physical equivalent of two major car crashes with every game as I read in an article once, it does take a physical toll on at least some of the folks who take the ice in the name of our entertainment...especially those who are the repeated recipients of hits that result in brain trauma. So it's reasonable to presume that any spillover of the football-concussion dialogue will ensnare hockey quickly.
So I'm encouraging you: Invest the time, learn about the issues at hand from people who have studied and investigated much more than you or I have and draw your own conclusions.
If nothing else, you'll be up-to-speed on what many (including me) consider the biggest threat to the way our sporting life looks today.