The pace of news is getting out ahead of me...I want to write my opinion pieces on the different aspects of the Columbus Blue Jackets organization, but things keep happening...forcing me to write more reactive pieces. And as it relates to the coaching, I actually wanted to target my attention to the two people that I'll discuss today, but there's a lot more that I want to say about the coaches in the days ahead. So forgive me while I jump to the back of the book and offer up some thoughts that are a tad out of sequence with my intended plan.
DAVE ROOK - GONE!
It is with no small measure of joy that I share with DBJ blog readers
a link from the Dispatch
informing the world that goalie consultant Dave Rook has resigned from the Columbus Blue Jackets coaching staff. The public reason is that he now recognizes that the CBJ want him in Columbus more than he wants to be, and he won't move his family down from Canada.
I've been increasingly sour on Rook
for
some
time
now
, so pardon me while I do a happy dance. You see, despite the title of "goaltending coach," Rook was largely nothing more than a consultant. In an idea world for him, he'd swing through town (Columbus and Springfield) a few times a season to offer pointers, watch games on TV and offer critique via phone calls with his players, and spend time running his business, that being
Pure Hockey Goaltending
(PHG). PHG is a dream job - take the money from parents whose kids want to be the Next Big Thing between the pipes, teach them how to play goal and send them on their way. If a kid does well, you can take all the credit. If the kid doesn't do well...well, there were tons of extenuating circumstances
. Fortunately for Rook, the coaching he gave Steve Mason put Mase over the top in his pre-NHL career...so then Rook had a success story to hype (as he does on his site).
The problem arises, however, when Rook's protege calls out for him from the NHL. Another consulting gig? No problem! Take the paycheck, make a couple of trips, and that's that. Thing is, Mase was stuck in a world of pain. Garon's early-season brilliance was left in the early season. Rook was needed, more and more, in Columbus simply to straighten out the mess. Which takes him away from his stated reason for quitting, his family, and his unstated reason for quitting, PHG.
Maybe a fresh face as a goalie coach will bring Steve Mason's game
back to a Vezina-contending level.
Consultancy gigs are awesome. You take the cash, offer some critiques and have zero responsibility for the outcome. "I gave my advice," the consultant says, "but they didn't listen." I have heard that so many times from so many consultants that I've lost count. All but the best ones actually own their outcomes on both sides of the ledger. It's a very different position than paid staff, where the coach (not a consultant) is stuck in the foxhole with the players, taking responsibility for that which goes right and wrong.
The gig in Columbus, over the course of the season, morphed from a consultancy gig to a coaching job where Rook got dragged into that foxhole with players who weren't getting it done. Guess what, Dave? It's your hiney on the line now. And while I won't pin 100% of the blame on Rook and his goalies for the lousy performance of the defensive and goaltending play that led to the CBJ allowing a
fifth-worst in the NHL
250 goals this season (3.05 per game, if you want to keep track), I daresay that the number could have gone down had Mason and Garon been stronger between the pipes. So now it's Rook's problem, and Consultant Rook (and Family Man Rook) is starting to get uncomfortable by the (failing) performance from Coach Rook.
So Rook quits. Good. Now, we can get a true goalie coach in Columbus and see if that will get Mason and whomever the 2011-12 season will bring (presuming Garon's re-signing is a stretch at this point) back to the level of contending for the Vezina trophy - like Mason was when he had Perry Elderbroom as his goaltending consultant in his rookie year (
not that Mase listened to Elderbroom
, mind you).
BOB BOUGHNER - LOOKING TO LEAVE?
97.1 The Fan's
Lori Schmidt tweeted
this story in the Windsor Star
about CBJ forward and power play coach Bob Boughner's return to his Windsor Spitfires (Yes, they're his. He owns the Spits.) and, more pertinent to this piece, his interest in the five currently open NHL head coaching slots. Per the article,
Boughner is aware of five vacant NHL head coaching jobs and doesn't deny that remains his ultimate goal.
"That's why I left to go to Columbus," he said. "I want to be a head coach whether it's this year or in five years."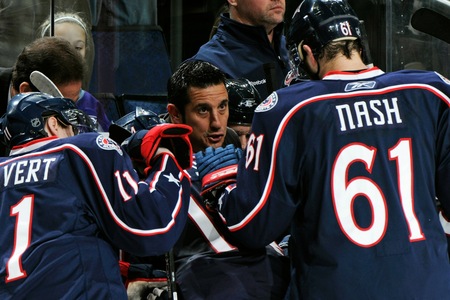 "OK Rick, this is how we did it in Windsor. It worked there. Trust me!"
That's not a resounding "I want out of Columbus and am interviewing" statement from Boogie but rather more of a reaffirmation of his career objectives.
To be clear, the Columbus Blue Jackets are not to the NHL what
his Windsor Spitfires have been to the world of Major Juniors
. While the CBJ were is 14th in the league in shots per game (
30.6
), they dropped to 24th in the league in goals per game (
2.56
). They were 29th in the league in power play percentage (
14.0%
).
And Boogie was in charge of both the 5-on-5 goal scoring production and power play performance. In my opinion, he was over his head once he removed himself from the Windsor ("
I have Taylor Hall, Ryan Ellis and Cam Fowler...and you don't
") environment. And, don't forget
the six shutouts that the CBJ fans had to endure this season
- with a humiliating
four
of them in March and April, when one would think that the team would have picked up the offense by then.
No, if Boughner wants to move along to another team, I wish him all the best. In fact, I'll help pack his bags if he needs an extra set of hands. Perhaps maybe Arniel could replace this mistake of a hire with someone who actually knows how to coach at the NHL level.