[Campbell's brand-new series, getting a jump-start on the looming offseason...I'm posting while he gets up to speed with the Blogger interface. - DBJ]
Over the next couple weeks I will be doing an in depth examination of the upcoming free agents of the Columbus Blue Jackets and whether they should return or not.
PART 1 – FORWARDS
RW #71
Age: 35 Ht: 6'0" Wt: 196 lbs.
Acquired: Via trade with Washington Capitals
Current Salary: $2,633,333
Status After Season: Unrestricted Free Agent (UFA)
The former captain of the Washington Capitals was acquired in the 2009/10 season along with defenseman Milan Jurcina in exchange for perpetually off-side left wing Jason Chimera. Clark was mainly acquired to add leadership to the locker room, something the team was deemed to be missing after the retirement of Michael Peca following the 2008/09 season. While Clark started off the year extremely well, nagging injuries and age seem to have caught up with him and he seems unable to stay healthy enough to play a bottom six role. It is impossible to determine the effect Clark has had in a leadership role, however it seems that Rick Nash and R.J. Umberger are the leaders of this team.
I can't see Howson offering Clark a contract, and if he did it certainly would have to be one that included a substantial pay cut. His numbers and injuries just have not allowed Scott Arniel to find a solid role for him, and even when not hurt he has often been a healthy scratch. Springfield is teeming with gritty wingers that can pitch in points every now and then, so my guess would be Clark is allowed to walk.
LW #9
Age: 27 Ht: 6'0" Wt: 197 lbs.
Acquired: Via trade with Phoenix Coyotes
Current Salary: $2,250,000
Status After Season: UFA
Upshall was brought in at the trade deadline this year along with defenseman Sami Lepisto for defenseman Rusty Klesla. This was a somewhat controversial move on the part of GM Scott Howson. While most objective fans were happy with the return we got for the oft-injured Klesla, some fans were upset that the last original Jacket was shipped out. In all fairness those fans probably would have complained if Klesla had been traded for Sidney Crosby.
Upshall is a similar player to fan favorite R.J. Umberger. He is versatile and can play either wing, he is a fiery competitor, and he works hard in the corners. Unlike Umberger he has a wicked wrist-shot that has a very fast release. While he is a plus player for his career he has not been especially good defensively for the Jackets, sporting a -10 in the 16 games since the trade. This could be an aberration, it could be due to the Jackets porous defense and sub-standard goal tending, or he could be regressing defensively while improving offensively.
Comparing Upshall to other players of a similar style and point production the one that stand out most is Steve Ott of the Dallas Stars. They are the same size, both play an agitating style and score about the same amount of points. Ott makes $2.95 million and this is probably about what Upshall should realistically be looking for in his next contract. I remember reading a remark somewhere after the trade that Upshall was the type of player you want on your team if you want to win a cup. I agree, and I hope Scott Howson re-signs Upshall as long as he can get him signed for $3.5 million per or less.
LW #19
Age: 35 Ht: 6'2" Wt: 220 lbs.
Acquired: Claimed off waivers from the Edmonton Oilers
Current Salary: $2,000,000
Status After Season: UFA
I almost copied and pasted the Chris Clark entry here but thought better of it. Claimed off waivers from the moribund Edmonton Oilers, Moreau was brought in to provide... wait for it... grit and leadership. I'm not sure if this speaks to Scott Howson's lack of faith in Rick Nash, or if he thought Chris Clark wasn't providing enough old veteran leadership for the team. Either way the ex-Oilers assistant GM Howson seems to enjoy bringing in players he knows (see also: Hejda, Jan and Torres, Raffi) with varying degrees of success. Moreau said all the right things leading up to camp, played decently in camp and in the first few weeks, then got injured. And then got injured again. Unfortunately his body seems to be betraying him.
When he was healthy he seemed to play pretty well on the checking line with Sammy Pahlsson. His lack of production, the team's lack of success, and his inability to stay healthy have probably doomed Moreau's future in the NHL and I think we can safely assume he will not be re-signed.
LW #17
Age: 29 Ht: 6'2" Wt: 210 lbs.
Acquired: Drafted by the Blue Jackets in 2001 (8th round)
Current Salary: $625,000
Status After Season: UFA
The former Bemidji State University standout has been in the Blue Jackets organization for quite some time. In three years in Syracuse and two years with the big club he has been a stable if unspectacular player. He has great size, good speed, can play all three forward positions, and is willing to work the corners. By now you can probably imagine what endeared him to Ken Hitchcock. The main things lacking in Murray's game are scoring punch and consistency. He shows flashes of great ability, then disappears for games on-end until re-appearing out of the blue.
With head coach Scott Arniel publicly stating that he prefers three scoring lines, the only way I see Murray having a future on the Blue Jackets is if they ask him to play a checking role. He certainly has the size and toughness to do it, I just don't know if he wants to or if he has the defensive skills to do it. The ideal situation for the Blue Jackets would be to re-sign Murray to a two-way deal worth somewhere near $700,000 at the top. If he doesn't make the team let him play in Springfield where he can provide... wait for it... grit and leadership for the young players.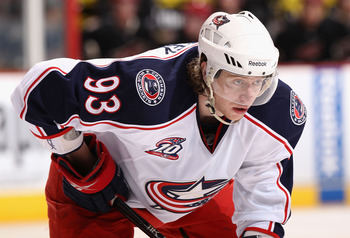 RW #93
Age: 21 Ht: 6'2" Wt: 213 lbs.
Acquired: Drafted by the Blue Jackets in 2007 (1st Round)
Current Salary: $1,270,833
Status After Season: Restricted Free Agent
There are days I sit at work wishing I were Scott Howson. There are nights I fiddle with the Cap Calculator on CapGeek.com for hours wishing I were Scott Howson. There are also decisions that Scott Howson must make that I do not envy him for. This is one of them. What to do with a young winger like Jakub Voracek. He has all the potential in the world. A massive frame, smooth skating, defensively sound, and an excellent play-maker. Unfortunately he also plays like a man half his size, is turnover-prone, wildly inconsistent, and misses open nets so often he might have fifteen more points if he didn't. There was quite a bit of gossip around the time Mike Commodore was banished that Voracek had fallen under the spell of the party-loving defenseman, and that Commodore was the one paying the price for it. I don't know if this is true or not, only that it sounds plausible. If I were 21 and a millionaire I'm sure I wouldn't be in bed every night at 10 PM. Voracek also played for the Czech Republic in the 2010 World Championships and won a gold medal. I was excited to see him play in a tournament with the likes of Jaromir Jagr and Tomas Vokoun. Unfortunately in 9 games he only managed 2 assists, while the likes of former Blue Jacket Jiri Novotny put up 6 points. These are the sort of decisions a GM can be fired for if they do the wrong thing. According to CapGeek.com the minimum qualifying offer for Voracek is $826,875, which is less than what he makes now.
There are a number of approaches Howson could take, he could offer him the minimum qualifying offer and hope another team signs him to an offer sheet in the $3 million dollar range which would net us first, second, and third round draft picks if we didn't match it. He could trade his rights to another team, possibly packaging him with other assets (our first round pick, Nikita Filatov, etc.) for a defenseman or a center. He could re-sign him to a contract that pays him close to market value which would be somewhere in the $3 million range. Or he could low-ball him and offer somewhere in the $1-2 million range.
If it were me I would see if I could package Voracek's rights with other assets and try to get a first-pairing defenseman or a first-line center. We have always needed these players and if we can acquire one we should. If I were a betting man, the fact that Howson did not lock Voracek up early like Derick Brassard and Steve Mason means that he sees something he doesn't like. I think Howson tries very hard to move him and if he can't, offers him the minimum qualifying offer.