Chicago 4 - Columbus 3
(I can never pass up the opportunity to run that graphic. It is SO Chicago Blackhawks.)
The Columbus Blue Jackets hung tough with the Jonathan Toews-less, Patrick Kane-less Chicago Blackhawks for 59 minutes and about 55 seconds. They couldn't say the same for the final five seconds, and the Blackhawks jammed a goalie crease scrummed puck past Sergei Bobrovsky for the 4-3 win in regulation.
As has been my lot in life, fathering a family of young kids, I only really sat down to this game when it was half over. Not sure it mattered in this game, though, as it seemed that while the game had its inevitable ebbs and flows of momentum, the Blue Jackets really did play a tough, competitive game. Sure, the Blackhawks were without their top two stars, but the Blackhawks without their top two stars probably would be a surefire playoff team...at least in the Eastern Conference.
Enough about the game. It didn't get Columbus a measly standings point, so it's pointless to discuss it. What's important is the playoff chase, and the DKM guys put together this dandy visual aid to help: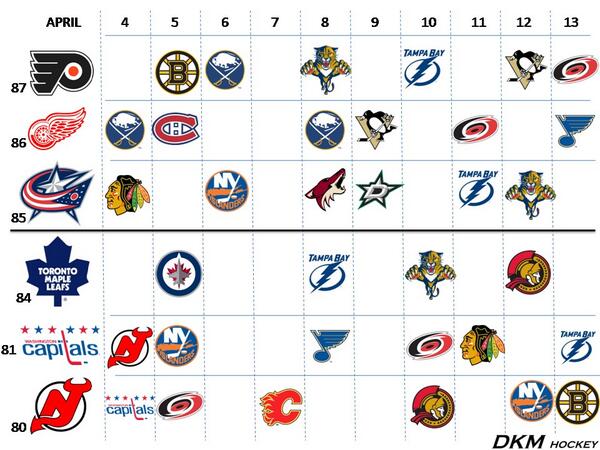 So the next game is Sunday against the Islanders. You have your list of games to watch for tomorrow. Always root against the Rangers, the Flyers, the Red Wings, the Maple Leafs, the Capitals and the Devils. If any of the teams listed play each other on a given night, pray that the ice cracks, the earth opens up and both squads are swallowed whole.
Onward and upward!