CHANNELING BARRY TROTZ
Part I: On The Forecheck's take
Part II: Preds 101's take
Part III: Pull My (Fang) Finger's take
Part IV: Seth Lake's take
Part V: Preds on the Glass' take
The Dispatch's Michael Arace offered
the "big media" commentary
on the firing of St. Louis Blues coach Andy Murray and drew the inevitable comparisons to Columbus Blue Jackets head coach Ken Hitchcock's job security considering the similar coaching arcs in Columbus and St. Louis over the past two seasons. Both teams, as you know, made a terrific run to get into the playoffs last season, flamed out in the first round, and have had eminently forgettable years this season. The piece got some followup attention from the likes of
Puck Daddy
and
ESPN
.
Within Arace's piece, which I really like (and am glad to say as I don't want to be labelled as an "Arace hater" for
my reaction to one of his past pieces
), he extracts a team strategy that I'm not sure I've heard before:
President Mike Priest and Howson believe the Hitchcock style is the way to win in the NHL. They would prefer to keep him in place in the same way that Nashville has kept [head coach] Barry Trotz in place. They believe that continuity is critical in a smaller market, and they are standing firm in this conviction.
Now this is very interesting, as I'm full of
envy
over how the Nashville franchise is run and has had continued success over its 10-ish years. But it also got me thinking: If Priest and Howson are implying similarities in the job statuses of Hitch and Trotz, might we want to see what has made Trotz so successful as the only coach Nashville has ever had?
This demanded further examination.
To that end, I contacted a handful of seemingly knowledgeable Nashville Predators bloggers and posed the same question:
I'm a CBJ blogger and saw in our local paper that the Jackets are holding onto Ken Hitchcock on the premise that stability in a franchise trumps a truly impressive losing streak. They then used Nashville and Barry Trotz as an example of what they hope to emulate.

So the question in my mind is, "What makes Barry Trotz the ideal coach for the Preds?" What is it about his coaching and/or leadership style that allows him to stay as the team's only coach when some teams change coaches more often than they change third jerseys?

I'd be interested in your feedback as you have a strong Preds blog and appear to know your stuff about your team. If it's OK by you, I'd like to quote your response in my upcoming blog piece on the topic. A link, of course, will be provided to your blog.

Thanks in advance for your insight. I'm genuinely flummoxed up here in C'bus.
I also posted a Tweet prompting Preds fans at large to offer their ideas. The first response I received was from Dirk Hoag, Twitter's
Forechecker
, who offers a strong blog of his own called "
On the Forecheck
". His
response
was:
Trotz gets the whole team moving in one direction while also knowing how to deal with each individual. A tough balance.
The obvious questions that arise as we learn how Barry Trotz has been so successful are, "But will it work here in Columbus? And can Ken Hitchcock do it like Trotz does?" I don't have the answers, but they're definitely worth discussing.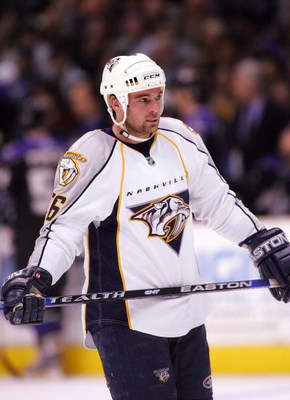 In a followup note, Dirk also suggested a blog post from "
The View from 111
," one that offered a little insight on Trotz from the player perspective. There's a genuinely cool story in the post about Trotz's relationship with his coaches that I suggest you read, but I'll stick with the player perspective for this excerpt:
I had a chance to listen to Steve Sullivan yesterday when he was XM Radio's Home Ice segment. Sully was asked what it was like to play for Trotzy, and he said that he was accessible, a good communicator, and most of all, respected the people around him. [...]

People that follow hockey often marvel and ask the question about how Barry Trotz is able to get so much out of his players each and every season. I think this example provides a glimpse into an aspect of how he is able to squeeze so much out of his talent. And it provides a glimpse into Barry Trotz, not just as a coach in the NHL, but as a man.
So we have our first lesson...be a good guy, a relationship builder, a guy who worries about tomorrow as well as today. I don't know as we in Columbus need a Barry Trotz clone, but it appears that we could choose many worse examples to model our coaching upon.
I've got at least one more post , if not two, on the Trotz success story to share as we try to figure out where the Jackets are going in the months and years ahead. I hope you enjoy the series.
---
A side note:
Some suggest
that Andy Murray's age was an issue in his firing in St. Louis. Considering that Murray, Trotz and Hitchock are all contemporaries, and then taking Hoag's idea on Trotz being able to balance the team with individuals, it appears that it's not age but rather attitude - attitude toward people, attitude toward working with the talent at hand. Did Murray have the right attitude and approach? More importantly, does Hitch?
There are two shining examples of Hitch's perceived failures with the young players - Derick Brassard and Nikita Filatov. (I put Steve Mason off to the side as he has his own goalie coach.) Brassard is struggling, to be sure. But he's also sticking with it, working hard and occasionally getting successes like the goal against Colorado the other night. Hitchcock is bumping him between lines, most likely to put him in places where he can grow as a young player.
Filatov is a totally different story. He had no intention after 4 games to stick around in Columbus and functionally has given up on Ken Hitchcock. And now,
The Pipeline Show
suggests that Filatov gave up on his Russian World Junior Championship coach after getting stripped of the team captaincy.
How many ways can we say, "Filatov is a prima donna?"
My unsolicited counsel for Scott Howson and Ken Hitchcock:
Stick with Brassard and reward his good work. And trade Filatov as soon as the first legitimate deal comes in the door.