Right wing
34 years old, 12th year in National Hockey League
$2,633,333 cap hit
4.4% of Columbus Blue Jackets salary cap
Contract expires at end of this season
2009-2010 CBJ numbers: 36 games played, 3 goals, 2 assists, 5 points, -8, 21 penalty minutes, 12:06 avg. time on ice
2009-2010 Washington Capitals numbers: 38 games played, 4 goals, 112 assists, 15 points, -4, 59 penalty minutes, 11:39 avg. time on ice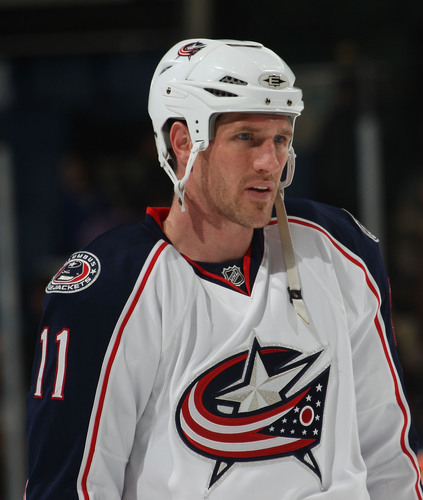 Rather than try any meaningful analysis of Clark's performance, let's look at the timing of his arrival, and the goal that it was supposed to achieve. Clark came (along with
Milan Jurcina
) in a
December 28, 2009
trade with Washington in exchange for Jason Chimera. This, after
a team leadership meeting in Dallas less than one week earlier
led Scott Howson to believe that leadership - or, more precisely, the lack thereof (especially in the wake of not re-signing Michael Peca) - and weak defense was the cause of the team's tailspin. So, out with Chimera and in with the Capitals' captain.
Think about it. If leadership is the ability to get people to believe in you, relate to you and rally around what you say and do (my definition, don't bother googling it), when and from whom does it emerge? Might I suggest it won't emerge at the depths of a mid-season slump from a new player who is dropped into the dressing room? Yeah, that's right. Chris Clark was in a no-win scenario last season.
(On the bright side, the Washington Capitals flamed out spectacularly in the Stanley Cup playoffs. So it's not like he missed a Cup run or anything.)
Clark was never a top-two line forward, so he was dumped back onto the 3rd and 4th lines, played his minutes and didn't distinguish himself on the stat sheet. But remember, he wasn't brought in to do that...he was brought in to lead. And, using the rationale stated above, that wasn't going to happen.
So here we are in 2010. It's the last year of Clark's contract, one upon which he's earning a healthy living. But Howson went out over the offseason and got himself yet another former team captain, Ethan Moreau, who projects on the third line with Sammy Pahlsson and (perhaps, if Nikita Filatov pans out) R.J. Umberger. Where does Clark fit in? The fourth line? Does that make sense for a guy pulling down $2.6 million?
Presuming that Clark's production remains the same as last year, as well as the others on the team (and now on the team), I don't really see where he fits in the mix. Nothing jumps out. The only real positive I can see for him is that Scott Arniel was a former longtime player who might enjoy having Clark's veteran voice around a locker room that clearly needs them so badly after jettisoning all of those vets following the 2009 playoff appearance. And perhaps, just perhaps, Chris Clark takes a real leadership role over the course of training camp as opposed to the shotgun wedding approach of last season.
I like Chris Clark - or at least the idea of Chris Clark. He's a guy who took a soul-crushing trade with class and dignity. He never once complained to the media. He played hard in the time he was given, and I honestly think he did what he could. A guy like him could be a strong, stabilizing leader for a gutsy young team - a
Reg Dunlop for our Charlestown Chiefs
. (Well, hopefully without the moving to St. Petersburg part...)
But I still don't know where he fits in, and the last year of an expensive veteran contract is not an ideal time for a guy with a family to try to find out. Will he cement that roster spot as the invaluable rock of the team, or might he end up replacing Michael Peca in yet another way - as a guy to whom Scott Howson suggests retirement as opposed to continuing his National Hockey League career?
One thing's for certain: He doesn't have a lot of time to figure it out.