The Jackets were 4-3-1 in the exhibition season. Their four victories were produced by the younger campers who played with intensity and verve against Boston (twice), Pittsburgh and Minnesota. A number of these youths – Brassard, Voracek and Filatov, as well as Michael Blunden, Matt Calvert, John Moore, Maksim Mayorov and Jonathan Sigalet, among others – fortified their promise, or gave an initial signal.

That's right.
The kids/backups were undefeated in the preseason.
The stars? 0-3-1. Now I'm not going to go jump off a cliff, predict imminent doom for the Blue Jackets this season or anything of the sort. But I'm not going to let this teaching moment pass by.
Let's go back to look at 2 games. First, the Boston preseason victory. They played their starters, Hitch (mostly) played our scrubs. And we won, 4-2. Try these quotes on:
"You know what they say: 'Work will win out over skill nine times out of 10,' " [Raffi] Torres said. "This is an example of (coach Ken Hitchcock's) system: If you play hard, it's usually going to work out well."

"There are a lot of guys in here looking for jobs and competing," [Derek] Dorsett said, "so we've got one more game left and guys want to make an impression."

Torres, Filatov, Dorsett and Matt Calvert (currently a
Brandon Wheat King
, but perhaps a Syracuse Cruncher if they can get a contract done) scored for the Blue Jackets. And the motley crew played good enough defense (in front of Garon, not Mason) to hold Boston to only two scores. They outshot the Bruins 35-24. They even got a couple more penalty minutes - a feisty lot!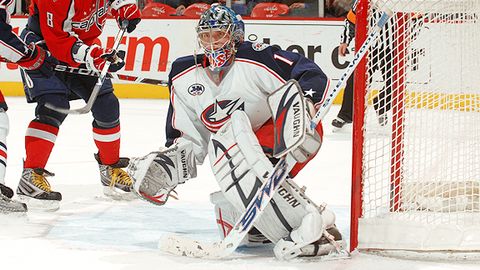 Now, let's go back to last season. January 9, 2009, to be precise. I'll let the
Blue Jackets' website
set the scene:
Forty-five minutes before the game, Steve Mason was sequestered in the Columbus Blue Jackets' training room. Unbeknownst to his teammates, already preparing to finish a six-game trip without eight injured regulars, the rookie goalie was in danger of sitting out because of upper-body muscle spasms.

But Mason shook off the pain, then disposed of one of the NHL's most dangerous offensive clubs.

Mason made 45 saves for his sixth shutout of the season and the injury-depleted Blue Jackets beat Washington 3-0 on Friday night, ending the Capitals' winning streak at seven games.

End of the torturous road trip. 8 starters out. Mase getting sick. 45 shots raining down...12 from NHL MVP Alex Ovechkin alone.
And they shut Washington down. Cold.
Hitch spoke to the grit of the Blue Cross Blue Shield Jackets that night:
"I think everybody knew our situation and I think we gained a lot of confidence by surviving the first period," Hitchcock said. "I think a lot of our young guys were in awe of what was going on and I think we were nervous and wondering what the heck was going to happen. We never even had one line that was a line a week ago."

It was so bad from the Caps' perspective that they made a YouTube video about the game...
Go look at
the roster for that night
. Umberger, Modin, Malhotra, Tyutin, Commodore and Hejda played like warriors that night, each logging over 20 minutes of ice time. The reinforcements from Syracuse weren't warming the bench, either, as McDonald, Picard, Filatov and Mayorov all got in the game with some decent minutes.
We were outgunned and outmanned. Yet the Columbus Blue Jackets, with injured Steve Mason in goal, pitched a shutout against one of the league's most dangerous teams.
Why, you ask? I'll suggest it was pure heart. It's was about desire. These guys WANTED this game. And, in Ken Hitchcock's system, any game is winnable against any opponent if you want it more.
The preseason is a different animal. Players are getting in shape, working on gametime skill development, learning about their new teammates. Vets are playing more tentative, looking more to avoid getting hurt than to put on a fireworks display.
But Raffi was right, "Work will win out over skill nine times out of 10." And in the toughest division in the toughest conference in the National Hockey League, the Columbus Blue Jackets are going to need to muster all of their skill and work like mad to get back to the playoffs this season.
Let's hope that
the final, 23-man opening day roster for the 2009-2010 Columbus Blue Jackets
learn from the work performed by the backups and minor leaguers in their name.
If the stars play with half the heart of those scrappy youngsters, this will be one incredible season.