[NOTE: There may be a little dramatic license taken in this post, but please don't let that get in the way of a good story. Also, if you're totally turned off by fighting in hockey, move along.]
"We know what's coming," Hitchcock said. "We've got Darth Vader coming to town (tonight)."
- Ken Hitchcock, January 12, 2008
Among the many issues that Ken Hitchcock had to address
in taking over the CBJ, a lack of toughness - especially with
Nashville - was one of them. (Flickr image by Danielle Browne)
H
e was no dummy. Ken Hitchcock knew that the Nashville Predators represented a mountain that the Columbus Blue Jackets would have to climb. For years, the Preds had the CBJ's number. Hitch put a face to that challenge, casting it in pure good versus evil terms that any North American who had seen a movie since 1977 could quickly understand (and has since
spawned a virtual cottage industry for bloggers
). Vader was the bad overlord, hence his Blue Jackets squad took the role of the plucky rebel upstarts. Of course, the upstarts win in the end...at least in the movies.
It wasn't that easy for the hockey team. OK, I'll grant that they won the next night, 2-1 in a shootout. But Columbus had a bit of a reputation as a soft team, something that has only recently started to shake off. The Columbus version of Hitch Hockey was about strength, toughness, lines you don't let the other teams pass without extracting a price...and an occasional goal to grab the game away. Scott Howson stocked the blue line with big, veteran, Hitch defensemen - Commodore, Tyutin, Hejda - to try to match talent to the scheme.
But the toughness issue still loomed large. CBJ fan favorite pugilist Jody Shelley had moved along, functionally replaced by a young Jared Boll. Boll had spunk but lacked size and consistency. He was, as some have written, a middleweight amongst heavyweights. The CBJ went 1-6-1 against the Preds in 2007-2008 - and missed the playoffs for yet another year.
H
itch was loaded for bear going into the 2008-2009 season. He knew that his still-maturing club had plenty of obstacles to overcome, one being the ongoing toughness question and another being Nashville. And Nashville always seemed to have a way to make Columbus look...weak. Every team has its tough guy (Shelley and Boll for Columbus, for example), and Nashville's was Jordin Tootoo. Tootoo seemed to enjoy annoying the Blue Jackets roster,
picking fights with then-CBJ captain Adam Foote, Jan Hejda, Jason Chimera and Boll all in the 2007-2008 season
. If Hitch was going to demonstrate that the CBJ was tougher, it was going to be by making a statement - to the team and to the Columbus fanbase - at Darth Vader's expense.
Enter
Jon Mirasty
.
W
ho is Jon Mirasty, you ask? That's actually a great question, especially if you're a newer fan of the Columbus Blue Jackets. Born in 1982 in
Meadow Lake, Saskatchewan
(current population 4,771 and known as "Gateway to Pure Air and Water" - sounds to me like the edge of civilization!), this descendant of the Cree Indian tribe was raised on Flying Dust First Nation, a Canadian Indian community outside of Meadow Lake. Growing up, he augmented his ice hockey repertoire with a little something extra, as
his biography
(which is most definitely worth a full read) explains:
Encouraged by his older cousin and ex-minor professional hockey enforcer himself, Leon Delorme, Jon had found his calling in life at the age of 15 when he got into his first ever organized hockey fight while playing midget hockey for the Meadow Lake Lakers. From this point forward, Jon had fighting in his blood, whether it was on the ice or in one of the local bars as a teenager.
That's right, Mirasty was fighting in
midgets
. He also was boxing on the side, winning Golden Gloves competitions. By the time he hit the ECHL in 2003-2004 with the Bakersfield Condors, however, his reputation was secured with his eye-popping 358 penalty minutes over - get this - 56 games. That's 6.4 penalty minutes
per game
. That's a (fighting?) major plus almost an entire minor penalty
every game
. He had 32 fighting majors that season. Ridiculous.
Beyond that, he's done some Mixed Martial Arts in the offseasons for giggles. You know, something to do....
Note that this fight was posted to YouTube on February 19, 2008...right in the midst of the Hitchcock lamentations about Darth Vader. And, at the time, Mirasty the hockey player was the property of the Columbus Blue Jacket's AHL affiliate, the Syracuse Crunch. In that first year with the Crunch, Mirasty amassed 181 penalty minutes in 55 games, the lowest season total of his three full seasons in Syracuse.
M
irasty's problem then, and problem now, is that he's a one-trick pony.
In 182 games in Syracuse over four seasons, Mirasty had just one goal and six assists. Seven whole points. But he had 751 penalty minutes.
Over his career,
he's had over 300 fights
. And his fights are epic. Check out
this one from the Crunch's 2010 Mirabito Outdoor Classic
to get some flavor:
Yes, "Nasty" Mirasty was hanging out in Syracuse, waiting for The Call to come to the big club. And he knew what his role would be should that call come from Columbus.
L
ike most (all?) AHL'ers, Mirasty received tryout invites to the Columbus Blue Jackets' training camps while the team was affiliated with the Crunch. (As best I can recall, Mirasty's contract was with the Crunch and not the CBJ, so Nasty stayed with the Crunch when Syracuse changed their affiliation from Columbus to Anaheim.) And, like most of the AHL'ers at camp, Mirasty was optioned off to Syracuse pretty quickly.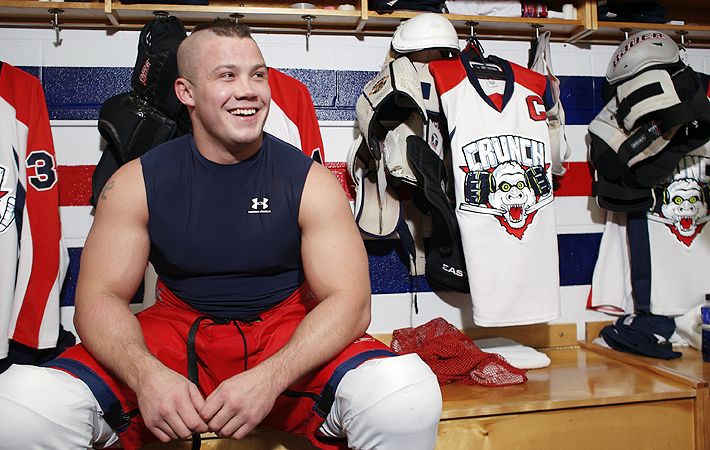 Except in 2008. The CBJ preseason schedule included a home-and home with Nashville on the 26th and 27th of September, the third and fourth games of
an eight-game preseason
. That's right, two meaningless games against Darth Vader.
You can say lots of things about Ken Hitchcock, but you cannot say that he didn't know how to make a statement. He kept Jon Mirasty on the training camp roster that fall through the end of September - just perhaps so the 5'10" Ball of Nastiness could pound the Preds into submission...and send a message to both Nashville and the rest of the league that the Columbus Blue Jackets had this type of weapon in their arsenal and were not afraid to use it.
By most accounts, it appears that Mirasty wanted a piece of Tootoo. Preds coach Barry Trotz, however, forbade Tootoo from engaging. So Mirasty took what he could get, starting with
Josh Gratton in the September 26th game at Nationwide
:
He then took on
Tristan Grant the following night in Nashville
. Sadly, the fight was not recorded (insert backwater Tennessee joke here). However, the ferocity of the Gratton tussle and Mirasty's larger-than life reputation grabbed the attention of hockey media, including
Yahoo! Sports' Puck Daddy
:
For hockey fight aficionados, the last two Columbus Blue Jackets exhibition games have been like seeing your favorite garage band play the main stage at Lollapalooza. Jon "Nasty" Mirasty -- a minor league hockey fight-video celebrity who was famously celebrated in a widely read ESPN the Magazine story this year -- made his debut in an NHL uniform in Friday's preseason game against the Nashville Predators.
It was the Dispatch's Puck Rakers blog, however, that had perhaps
the definitive recap
of the Grant fight and Trotz's reticence about Tootoo:
Jon "Nasty" Mirasty might have played his last pre-season game before heading back to Syracuse. He left an impression. His first-period scrap with Triston Grant was every bit as exciting as his Friday night bout with Josh Gratton. Mirasty wanted a piece of Tootoo – he had to take a number on this night – but Preds' coach Barry Trotz ordered Tootoo to keep the mitts on. ``It was a physical game and obviously they've been targeting Jordin the last two nights,'' Trotz said. ``I basically put the no-fighting (restriction) on Jordin. There's no sense fighting some guy that will not be in the league.''
Trotz was right on the facts if not on principle (at least, from a CBJ perspective);
Mirasty was released
from his tryout agreement the day after the Grant fight and optioned back to Syracuse.
Mirasty made the 2009 preseason roster but, as best I can tell, never saw the ice before being shipped back to the Crunch. So that Grant fight was his last NHL-level game of any sort. He's since been optioned by the Crunch this season to the ECHL Elmira Jackals and then loaned to, of all places, the CHL's Fort Wayne Komets - the CBJ's sub-AHL affiliate. And
guess who's now throwing the fists of fury in The Fort
?
(By the way, I have a Twitter report about that fight, Mirasty's first in Fort Wayne, that suggested that the Komets' forwards - who have been struggling with opponents' roughhousing - had no problems for the rest of the night. From slayer of monsters to defender of the weak....whatever it takes!)
B
ut I told you that story to tell you this one.
If you know me at all, you know that I have a reasonably-sized hockey jersey collection. At last count, it was around 15 or so - two CBJ sweaters, college jersies (Notre Dame and Ohio U, my alma mater and current institution of higher learning), an authentic Komets sweater, some Original Six, some really odd third jersies and a couple others. From the point where the weather turns cold until the point where the weather turns warm, I pretty much wear a jersey every day. When you're in my shoes, you can do that. Nice perk of the trade.
Interestingly, though, I've never bought a jersey with a name or number on the back. My wife got me the Notre Dame jersey, pre-stitched with
Yan Stasny
's number 11 on it, but that's the only "personalized" jersey in my portfolio.
Yup, Jon Mirasty is beating up on the Preds again.
(Flickr image by Danielle Browne)
B
eing a Columbus Blue Jackets fan, some folks have asked me if I'd ever get a CBJ sweater with a name on the back. The obvious ones are suggested - Rick Nash, Steve Mason, etc. - and my standard response is that players in pro sports are too transitory...and too few make a real mark on their franchise...to justify the investment. Besides, it's the logo on the front that's more important to me than the names on the back. (Nash's recent performance has me reconsidering, but I'm not budging...yet.)
However, when pressed, there always has been one sweater that I thought would be worth owning. A number 54 sweater, with "MIRASTY" at the top, in away white to signify Mirasty's last on-ice appearance in a Blue Jackets uniform. But I kept the bar high - the CBJ have a "game-worn jersey" kiosk in Nationwide Arena, and I'd occasionally check it out and needle the guy about when he was going to get Mirasty's away sweater - presumably from that final night in Nashville where Nasty went toe-to-toe with another of Lord Vader's minions. Time and again, no dice. And a replica jersey with the name and number stitched on the back just wasn't going to cut it for me.
I did this for two years.
L
ast night, after the CBJ finished their third-period demolition of the Predators, my buddy and I were walking out of Nationwide Arena. He being a newbie to things Blue Jackets, the obligatory stop in the Blue Line store was in order. My buddy wanted a jersey, but not one of those heat-sealed appliqué patch jersies. No, he was all in - he wanted the stitched-on authentic. (Good taste, if not pricey.) With some assistant from an acquaintance who works at the store, we learned that an authentic jersey with names and numbers stitched on was roughly the same price as a game-worn jersey...and the names/numbers were already attached, meaning you could walk out with a new sweater. Not to mention the "coolness factor" of having a sweater actually used by an actual player. So we swung over to the game-worn stand.
Mirasty knocking the Preds around again... (Image from HFBoards)
Wouldn't you know, they had not one but TWO Mirasty away sweaters. (They had a Mirasty home sweater, too, but I was dead-set on the aways.) Now, these were "game issued," not "game-worn," meaning that Nasty was probably munching hot dogs in the press box on the night that these jersies were issued...but I couldn't believe that anything close to game-worn was right before my eyes.
P
roblem was, I finally gave in and purchased a replica third jersey at the little fan shop at the top of the 200-level escalators before coming down. I'd been mulling it over since the pre-Thanksgiving weekend launch, tried a couple discount options that never panned out, and finally gave up around 5:00PM yesterday. So I got the cannon jersey (with no name nor number, of course).
What a shock! How painful! To know that I just dropped not insignificant cash on a replica sweater when, for not much more, I could finally get the sweater I never thought I could get. My buddy was stunned. When I balked at the Mirasty sweater, he even offered to buy it for me. "You can pay me back" never would fly with a guy as charitable as he...so I refused. I stuck with my cannon sweater, and we headed out.
I'm fighting one nasty mid-winter cold right now, and last night did nothing to help the matter. I was clogged up, tossing and turning, all night long and eventually woke up in the middle of the night. My mind drifted to the happenings of the day, and how I was an idiot for passing on the very sweater I was (more or less) stalking for over two years.
I
swapped the cannon jersey for the Mirasty game-issued one this morning. And here it is:
The front of the CBJ authentic away sweater. Sharp looking "54's"
on the sleeves. And the stars on the wrists are slightly askew,
which is different than my replica home sweater.
The name and the number. Never thought I'd see it, let alone own it.
The (sadly) unused fight strap, along with the "authentication patch" from the CBJ.
I know it's not the ideal - the game-worn sweater in which Mirasty decimated the Preds training campers. But it's pretty darned close, and I like it a lot.
A "normal" brain of a deceased person on the left,
the brain of a deceased NFL linebacker in the middle and
a deceased championship boxer on the right. The darkness
apparently is from staining to highlight the degeneration
that the two brains have gone through.
(Photo from the Boston University Center for the
Study of Traumatic Encephalopathy)
O
n this whole subject of fighting in hockey - I'm of two very mixed minds. I don't like what the NHL has done to allow it yet push it into a corner like a red-headed stepchild of the game. If they are going to allow fighting, lose the instigator rule and let the players police themselves. This whole "I fight to bring energy to the team" thing is just bizarre and resembles a circus sideshow.
I also have very grave concerns about a guy like a Mirasty in light of what I'm learning about
Chronic Traumatic Encephalopathy
. Same goes for Boll, Shelley, Tootoo, Derek Dorsett, Derek Boogaard and so many other pugilists. This stuff scares me so much that I am hard pressed to pick a sport that I feel comfortable letting the Dark Blue Toddler play without feeling like a child abuser.
But, for now, fighting is a part of hockey. It's a symbol of the toughness of the sport and the players who partake. And, in the case of Jon Mirasty and my new jersey, it's a symbol of a special period in the growth of the Columbus Blue Jackets - when they started to confront their Darth Vaders and fight back.
I
f you see me walking around the Nationwide concourses in the jersey, feel free to say hi - maybe we'll shadow-box in honor of Mirasty. Just don't land any punches...I'm not one percent of the fighter that Mirasty is!
I hope you enjoyed this tale within a tale...keep rooting on the Blue Jackets! Carry The Flag!
(Thanks to
En4cer45
for the stats assist on this post.)