I am now convinced that this roster, as currently composed, cannot be expected to beat any good National Hockey League team with any regularity this season.
T
hat was my opening salvo, from before Christmas, that started this blog's drumbeat for a personnel shakeup to solidify the Columbus Blue Jackets and salvage their playoff chances for this season. With a CBJ day off and all sorts of somewhat fact-based goofiness going around on Twitter, I thought it might be wise to revisit that statement in light of the recent streak of - at least record-wise - great Blue Jackets on-ice performance.
CBJ captain Rick Nash is doing all he
can to will his team to wins. But is
his effort enough to put the club over
the top and into the Stanley Cup Playoffs?
L
et's set some ground rules for this investigation.
It's clear that the CBJ of pre-Thanksgiving is not the same as the CBJ of post-January 14. The roster is different, albeit through scratches, injuries, callups and demotions instead of trades or waiver wire grabs. And, blessedly, both of those CBJ teams are very different than the one that hibernated from Thanksgiving through January 13. (Actually, this raises a totally different point about the evolution of the team this season. If I have time, I might go down this road in another post...or save it for the season recap.)
At the same time, the CBJ's opposition could make the same claims, but with different timelines. Every team evolves over the course of an 82-game season. So looking at long-forgotten games (OK, I haven't forgotten EVERY game...) is largely pointless.
I have to play the hand that I'm dealt. By that, I mean that I have to look at the recent schedule and compare Columbus' performance against the teams that they've played. To make a comparison of the CBJ against, say, today's Philadelphia Flyers team is silly. In addition, I work with the stats that are easily available...the "last ten games" statistic is on every standings page of NHL.com and requires minimal extra investigation.
So we're going to look at the CBJ's performance in the last ten games, compare them against the teams that they played in their most recent ten-game spans (but I'll throw in standings info as well for giggles), and see if the Blue Jackets NOW can be expected to beat good NHL teams. If that's the case, we'll look at the regularity of their wins.
H
ow strong of a team do we have over this 6-3-1 stretch in our last 10. Check out the info below:
The sample size is too small, and the season is too fluid, to draw any statistically valid conclusions. At the same time, the data tells us a lot.
The CBJ are 5-1 against teams at/below .500 in their last 10. Chicago is counted twice because we played them twice.
The CBJ are 1-2-1 against teams over .500 in their last 10.
Far and away, the Detroit win was the highest quality performance that the CBJ have had in the last 10. Close second...the overtime loss to Los Angeles.
Beyond those two games, the only other win against a team with a winning record in the last 10 was Pittsburgh. Pittsburgh is an anomaly in my mind for a couple of reasons: A) They play in the East, where you don't need to be as good to get a better record. Lots more patsies over there. The CBJ would be playoff qualifiers in the East right now. B) The loss of Malkin and Crosby has made them a shell of the competitive team that they once were. As evidence, I give you yesterday's nationally televised game against Chicago. They were brutal. Like Gary Agnew-coached CBJ brutal.
I don't make this stuff up. Numbers are numbers. The CBJ are getting fat on a schedule filled with bad teams while not keeping up with good teams on a consistent basis. Is my pre-Christmas quote still accurate? The Magic 8-Ball says: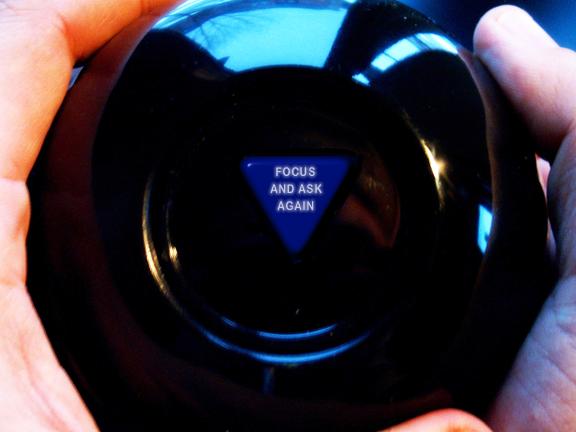 Sigh. (shake shake)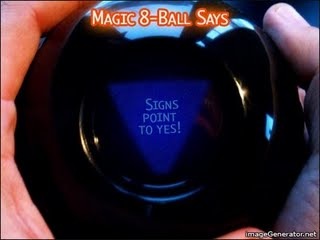 There we go. Danged 8-Ball...
W
hat does this mean? For the short-term (with a trade deadline looming on February 28) and longer term?
Two games against Nashville (4-4-2 in their last 10, 31-20-8, 4th place in the West) - a mid-season home-and-home series, if you will.
Nashville is dealing with some nasty injuries
, and their hot streak has cooled considerably of late, but they're still one tough bunch of hill-williams with
a great coach
. And that arena of theirs (whatever they're calling it today) is not exactly Columbus' home away from home.
Squeezed in the middle is a single game against Phoenix (8-2-0 in last 10, 32-19-9, 3rd place in the West and winners of seven straight games) that, candidly, scares the pants off of me. Now, it's a Friday night game at Nationwide Arena...so you'd expect that the CBJ would have just about every possible variable (home crowd, last line change, etc.) to their advantage. Problem is, it's games like those that give the still-maturing CBJ fits. Over the last couple of seasons, they sense the moment - big home game, tough opponent, make a statement to the fans - and lay an egg. They get cutesy. They lose concentration. They wilt. And it's always on home ice. They can beat Detroit in Detroit. They can qualify for the playoffs in Chicago. They can mangle the Pacific Division on a mettle-testing road trip. But they blow it at home. If you disagree with my assessment, I challenge you to point out exact games (dates, teams, scores) where I am wrong in the comments.
So this is it, a three-game
crucible
. If they emerge on the positive side of the ledger (by no means guaranteed, given their last 10 games), the
rumor has it
that Mr.'s McConnell and Priest have green-lighted general manager Scott Howson to add some payroll and talent to the roster for a playoff run. If they fall down, look for the garage sale sign to be hung outside Nationwide Arena.
T
he short-term clearly impacts the long-term, but the long-term issue is growing clearer in my mind. The CBJ are apparently a solid enough team right now that they can beat middling to bad teams with a degree of consistency. That is a huge step for this long-struggling franchise, one that suggests the foundation is solid. It says volumes about Howson's talent acquisition and development acumen (and the larger budget with which he has to work) and the on-ice/locker room culture shift that head coach Scott Arniel continues to drive. At the same time, I'm genuinely interested in (or should it be concerned about?) their ability to make the next step, a much harder one.
When will the Columbus Blue Jackets start to consistently beat good teams?
When will they become the buzz-saw that other contenders and pretenders run into, only to leave with battle scars and shattered confidences?
It's that point, my friends, where the hockey gets real good in Columbus. We're getting closer, but the facts tell us that we're not there yet. Does anyone have any Tums left?