As we learned that
Nikita Filatov appeared to be going to Moscow
("on loan"), something that was confirmed both by the
Columbus Dispatch
and the
Columbus Blue Jackets
- not to mention
CKSA Moscow
, the obvious question arising in the CBJ Nation was, "What the #$@#!!! happened?"
As with any disagreement, there are at least two sides to every story. The Jackets, represented by Scott Howson, went on the record with the Dispatch and in its own release as linked above. He also held a press conference to discuss the matter. Because Howson has been so far out in front, I can't realistically expect that coach Ken Hitchcock will comment publicly.
Filatov, however, has only spoken thus far to
Puck Daddy's Dmitry Chesnokov
, who posted pieces of his interview with Filatov at
Yahoo! Sports' Puck Daddy blog
. (I follow Chesnokov on
Twitter
just like I follow many, many other people.)
The interview itself was unspectacular. Filatov, having been
interviewed by SovSport over the summer
, has shown himself to be an extremely disciplined interview who is smart enough not to burn any bridges. He says the right things about Russia when interviewed by Russian media. He says the right things about Columbus and America to American media. Some day, he'll tell all and we'll figure out what's really going on in his mind.
Today's Chesnokov interview was fascinating, however. Filatov stated that, "At the end of last week I told them that I want to come back [to Russia]." And it was entirely chummy, although Puck Rakers suggests that at least one CBJ player urged him to stick it out in Columbus - a point Filatov disputes in the interview.
And that's it. Right? Maybe. Maybe not.
One of the great things about this digital age is that you can communicate directly with the people helping make the news - the reporters. So I saw Chesnokov's Tweet that the interview was going to be posted, and then he posted this:
"
Just for the record, I am standing by the player in the Filatov mess.
"
An interesting statement considering that the interview was all babies, puppies and roses (with the exception of a little venom directed toward Ken Hitchcock). So I queried him:
"What's to stand behind? That Filatov is a square peg being pushed through a round hole? He's a bad fit. Period."
We went around and about over whether the player should adjust his game to the team, or whether the team should adjust to the player...perfectly reasonable, seeing that he already stated outright that he was on Filatov's side. So I tried to sum up my point, which is rooted in the fact that I really don't think that Filatov will ever play in Columbus again (that his ability to stay at the pro level in Russia gives him all the leverage for an NHL return, but that's another topic for another post):
"We agree much more than we disagree. I just think that Filatov should have asked for a trade instead of going to the KHL."

His response floored me:
"What makes you think he didn't ask for a trade?"

WHOA.
If Filatov asked for a trade and was shot down, then that opens up all sorts of issues. Did he want to go home and get playing time and play in the World Juniors like the public relations folks would have us believe? Or did he ask for a trade to satisfy his goal of being an NHL star (just not in Columbus), get shot down by Howson and accept the loan to CSKA Moscow just to get out of town?
BIG difference.
So I asked for a clarification.
"Did you ask him? If not, please do."
A fair response - just trying to get the whole story out there. What I got back, however, was silence. So I prodded his response:
"Waiting for a response to this question... @dchesnokov Did you ask him? If not, please do."
His eventual response was telling:
"he didn't want to answer some questions."
DOUBLE WHOA.
Implicit in that response is that Chesnokov asked and Filatov refused. If Filatov had not asked for a trade, he apparently was given an opportunity to make a categorical denial. He passed. And Chesnokov did not report this. So I pressed:
"What other questions did he not want to answer? Not telling both sides of the story is advocacy journalism."

Though a blog, Puck Daddy holds itself out as a legitimate news source. (Dark Blue Jacket, however, does not - this is a source of commentary and is inherently biased.) Chesnokov was tossing out complaints during our dialogue that the Columbus Dispatch and other mainstream media sources were not appropriately crediting his work. So the advocacy journalism claim strikes at the heart of being a legitimate journalist. Either you tell both sides of the story, or you don't. You're legit, or you're not. Chesnokov clearly was getting annoyed:
"I really don't feel like getting in the middle of this. Learned a few lessons."

Sorry, pal, you're not getting off that easy. My reply:
"By not telling the entire story (including the non-answers), you ARE in the middle. And Filatov suffers for it."

He then promised an update to the Puck Daddy article, which was posted roughly two-plus hours after the original interview. Chesnokov posted the following, which apparently represents comments from a second interview after Howson's press conference:
Tell me, why didn't you request a trade and decided to go to the KHL?

I thought this would be the right thing to do. First of all, for me. And also as a matter of respect to Columbus as an organization.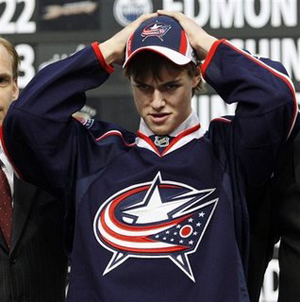 Now that wasn't so hard, was it? It's still a bit of an enigmatic response, making the presumption that Filatov did NOT request the trade - especially considering the earlier Tweet from Chesnokov, "What makes you think he didn't ask for a trade?" that implied he may have. Filatov played along, though, so we have to assume this is a fact. There may have been other unanswered questions, however, and we can only hope that the three additions to the interview represent that group. (And Filatov answered those three....hmmmm....)
This was an odd afternoon, indeed. I appreciate that Chesnokov had the professionalism to update his interview. I hope he was fully forthcoming with Filatov's answers and non-answers. Sadly, his professed support for Filatov makes me doubtful. And we'll probably never know the complete story.
In case you're interested, the entirety of Tweets by both Chesnokov and me during the time period in question is posted after the fold. I didn't edit the texts in any way, nor did I alter the timelines of the postings...so things may seem a little out of order. That's the asynchronous world of Twitter for you. Enjoy!
Captured at 3:30 PM EST

dchesnokov

I spoke to Nikita Filatov just as CBJ made their announcement. His first comments will be at Puck Daddy. about 1 hour ago from web

dchesnokov

Just for the record, I am standing by the player in the Filatov mess. about 1 hour ago from web

dchesnokov

Nikita Filatov: "Why I am leaving for Russia." http://bit.ly/qGeRO about 1 hour ago from web

dchesnokov

Don't forget the NY Times RT @mlse And then unsourced at TSN, CBC, and SportsnetRT @dchesnokov Nikita Filatov' first comments will be at PD. about 1 hour ago from web

DarkBlueJacket

RT @dchesnokov: Nikita Filatov: "Why I am leaving for Russia." http://bit.ly/qGeRO #CBJ about 1 hour ago from Seesmic

DarkBlueJacket

@dchesnokov What's to stand behind? That Filatov is a square peg being pushed through a round hole? He's a bad fit. Period. #CBJ about 1 hour ago from Seesmic in reply to dchesnokov

dchesnokov

@DarkBlueJacket Bad fit with CBJ? Probably. A bad player? Not at all. 42 minutes ago from web in reply to DarkBlueJacket

DarkBlueJacket

@dchesnokov Precsisely. But benching him in the #CBJ system is not an indictment of his skill. Just a bad fit...should have been traded. 41 minutes ago from Seesmic in reply to dchesnokov

DarkBlueJacket

@dchesnokov On the presumption that he did not want to change his game to fit...which appears to be the case. 40 minutes ago from Seesmic in reply to dchesnokov

dchesnokov

@DarkBlueJacket Agreed. SHould have been traded. Or better yet - shouldn't have been drafted by CBJ in the first place. Doesn't fit the sys 36 minutes ago from web in reply to DarkBlueJacket

dchesnokov

@DarkBlueJacket Changing the game: a coach should use player's best qualities an not change him, IMHO. 35 minutes ago from web in reply to DarkBlueJacket

DarkBlueJacket

@dchesnokov "shouldn't have been drafted"? Um - no. There was a chance he could have adjusted and he DOES have great skill. 33 minutes ago from Seesmic in reply to dchesnokov

dchesnokov

@DarkBlueJacket Some players are made for certain systems. Not every player can play the NJD system. Same with the CBJ. 31 minutes ago from web in reply to DarkBlueJacket

DarkBlueJacket

@dchesnokov Some coaches work that way, not Hitchcock. He's won enough games...he won't change. (But Nash did.) #CBJ 30 minutes ago from Seesmic in reply to dchesnokov

DarkBlueJacket

@dchesnokov We agree much more than we disagree. I just think that Filatov should have asked for a trade instead of going to the KHL. 29 minutes ago from Seesmic in reply to dchesnokov

dchesnokov

@DarkBlueJacket What makes you think he didn't ask for a trade? 28 minutes ago from web in reply to DarkBlueJacket

DarkBlueJacket

@dchesnokov Did you ask him? If not, please do. 27 minutes ago from Seesmic in reply to dchesnokov

dchesnokov

Columbus Dispatch took all credit for Filatov's "no AHL for me" story. Classic MSM! Even though that interview was at PD weeks earlier. 23 minutes ago from web

DarkBlueJacket

@dchesnokov The Dispatch may have sourced that independent of you and not known of your piece. They're solid pros an would have credited. 19 minutes ago from Seesmic in reply to dchesnokov

dchesnokov

@DarkBlueJacket I am talking about the summer interview. 17 minutes ago from web in reply to DarkBlueJacket

DarkBlueJacket

@dchesnokov As was I. Did the Dispatch cover your article? Nikita talks to them, too...they could have learned the same info independently 12 minutes ago from Seesmic in reply to dchesnokov

dchesnokov

@DarkBlueJacket I remember they asked him about his interview in Russia over the summer. 11 minutes ago from web in reply to DarkBlueJacket

DarkBlueJacket

Waiting for a response to this question... @dchesnokov Did you ask him? If not, please do. 10 minutes ago from Seesmic

DarkBlueJacket

News to me. You may have a gripe. RT @dchesnokov: @DarkBlueJacket I remember they asked him about his interview in Russia over the summer. 9 minutes ago from Seesmic

dchesnokov

@DarkBlueJacket he didn't want to answer some questions. 8 minutes ago from web in reply to DarkBlueJacket

dchesnokov

KHL Launches English Language Version of Web Site. KHL.ru 5 minutes ago from web

DarkBlueJacket

@dchesnokov What other questions did he not want to answer? Not telling both sides of the story is advocacy journalism. 4 minutes ago from Seesmic in reply to dchesnokov

dchesnokov

@DarkBlueJacket I really don't feel like getting in the middle of this. Learned a few lessons. 3 minutes ago from web in reply to DarkBlueJacket

DarkBlueJacket

@dchesnokov By not telling the entire story (including the non-answers), you ARE in the middle. And Filatov suffers for it. 2 minutes ago from Seesmic in reply to dchesnokov

C

aptured at 3:35 PM EST

dchesnokov

@DarkBlueJacket @kirsij He is answering them right now... 6 minutes ago from web in reply to DarkBlueJacket

dchesnokov

KHL may also have a deal to have certain games broadcast in North America. That would be interesting. 3 minutes ago from web

DarkBlueJacket

@dchesnokov Where? To you? Is there a followup article coming? 1 minute ago from Seesmic

dchesnokov

@DarkBlueJacket Will add it to the original post as an update. half a minute ago from web in reply to DarkBlueJacket

DarkBlueJacket

is cataloguing Twitter dialogue with Filatov's Puck Daddy reporter...something doesn't smell right. #CBJ less than 20 seconds ago from Seesmic